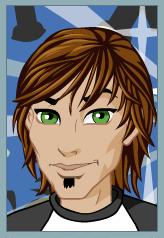 Michael D. Yaeger On Your Own PC
Want to get a picture of me on your desktop? How about having one of my icons on your messenger? You can find these things and many more right here. I have wallpapers you can set as your background image, buddy icons to use with your IM, and banner ads that you can place on your own site to link to mine. I will also be putting some audio and video clips that you can only find right here on my site.
If you have created your own icons or wallpapers of me, I would like to make them available to everyone. Just send them to me as an attachment in your e-mail and I will be glad to put them on my site. Enjoy!